TOEIC Bridge® Listening & Reading Tests
Official Score Certificate Format
Test results are not shown as a pass or fail. Instead, they are shown as a score from 15 to 50 for the Listening Section and 15 to 50 for the Reading Section, for a total score of 30 to 100 (in one-point increments). This score is not your raw score, or the number of correct answers. It is a scaled score, calculated using a statistical processing method called "equating."
Sample Official Score Certificate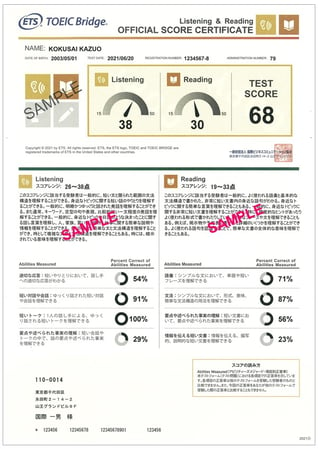 This sample is for illustrative purposes only, and the actual certificate's color, design, and text may vary.
You can only get an Official Score Certificate only if you take the secure program.
Your test results will be sent directly to you in the form of your Official Score Certificate within 35 days of the test date, in an envelope marked "Confidential." There will also be an explanation of how to read your scores. This will include data such as the number of people taking the test at the same time as you and the average score.
See below for results sending date.
Undelivered Official Score Certificate
You do not receive an Official Score Certificate within 40 days of the test date, please contact the IIBC Test Operation Center within 65 days after the test date. Any notice of undelivered certificate submitted later than 65 days after the test date will be considered a request for reissue and the fee for reissuing a Certificate must be paid.
Overseas Sending or Reissue of the Official Score Certificate