TOEIC® Listening & Reading Test
The TOEIC test is not the kind of test that you "pass" or "fail". Instead, they are shown as a score from 5 to 495 for the Listening Section and 5 to 495 for the Reading Section, for a total score of 10 to 990 (in steps of five points). This score is not your raw score, or the number of correct answers. It is a scaled score, calculated using a statistical processing method called "equating."
The TOEIC test scores you will receive are determined by the number of questions you answer correctly. There is no penalty for wrong answers, so we recommend you answer every question, even if you are not sure of the answer. In the Reading Section in particular, you need to watch the time so you can complete all the questions on your answer sheet.

In addition to your score, please check your Score Descriptors (per-level assessment) and Abilities Measured (percentage of correct answers per skill).
See below for details on the test results format.
Your Official Score Certificate with your test results will be sent to you within 30 days of the test day.
Also, you can see your results online 17 days after the test day. (The score display may be delayed due to national holidays in Japan and the U.S.)
Test taker's Photograph and signature of admission ticket will be printed in black and white on your official score certificate.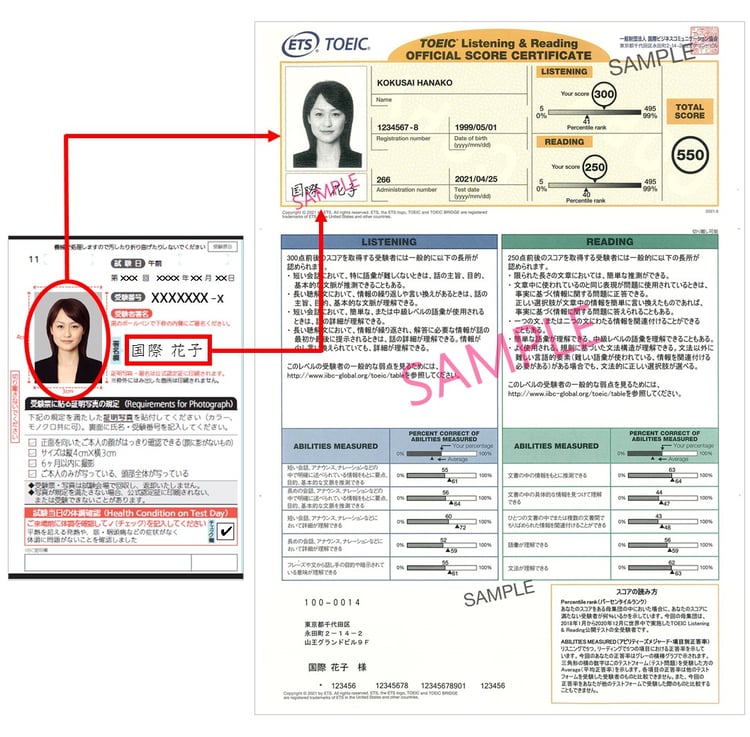 Undelivered Official Score Certificates
If you do not receive an Official Score Certificate within 35 days of the test date, please contact the IIBC Test Operation Center within 65 days after the test date.
Any notice of undelivered certificate submitted later than 65 days after the test date will be considered a request for reissue and the fee for reissuing a certificate must be paid.
Reissue of the Official Score Certificate
See here for reissue of the Official Score Certificate
Submission of Scores to Universities, Companies, etc.
You can submit your scores online to universities, companies, etc. that adopt the Score Confirmation Service in Secure Program.