Global Human Resources Development
IIBC's mission is to develop leaders who can play roles on the global scale, moving across all kinds of boundaries. In this VUCA world, where globalization and digitization are making the world increasingly complex, the key competencies are "individual value," "decisiveness," "strategies and business models development," "understanding different cultures," "leveraging diversity", and "strategic communication." In our Global Human Resources Development Program, we offer opportunities to learn, discuss, and foster these competencies through a variety of events and articles.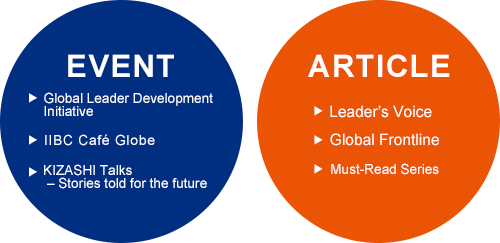 The Global Human Resources Development Program
The Global Human Resources Development Program provides opportunities to encourage the awareness, learning, and networking for developing future global leaders. We also contribute to developing global leaders by providing valuable information in a range of media.
IIBC events are the perfect place to obtain the same time and space with leaders who are succeeding on the world stage. We provide an occasion for participants to stimulate each other, acquire new awareness, and discover learnings.